You Won't Believe How Much These 'Trendy' Jeans Cost
Jeans are a staple piece in every wardrobe. One of those items you can wear with anything.

I'm about to give up on jean shopping though after coming across these jean "trends".
Buttless Jeans -- $125
The Ragged Priest honestly need to just stop pic.twitter.com/MrDZqpsFss

— Citizen Helene (@citizenhelene) January 9, 2018
Yup, you read that right.
These "buttless jeans" are by Ragged Priest and were being sold at ASOS for $125.
(No, that price does not include the black underwear shown.)
ASOS has since pulled this item from its website. I wonder why?
Clear Knee Jeans -- $95
These are actual jeans you can buy at @Nordstrom that cost $95.

Called Clear Knee Mom Jeans.

We are truly living in the dark time line. pic.twitter.com/vv9flwQeXx

— Sexy Jed Whitaker (@Jed05) March 13, 2017
These "clear knee jeans" are being sold at Nordstrom, but if you want a pair you can't get them online as this item is sold out!
I don't understand how that's possible, but it's on the internet which must mean it's true.
Muddy Jeans -- $675
HOW ARE THESE DIRTY JEANS WORTH ALMOST $700?!
Luckily, these jeans are easy to DIY so you won't have to pay that price.
Step one: Get your favorite jeans and put them on.
Step two: Play in the mud.
Extreme cut out jeans -- $168
Do people actually wear these?
I feel like they would get caught on everything.
Why even bother wearing pants at this point?
*BONUS* Jean boots -- $59.99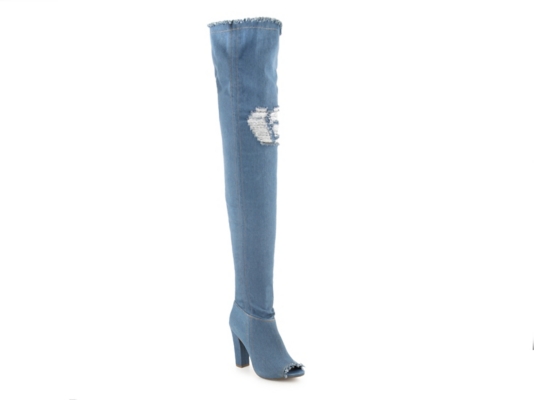 So these aren't quite jeans, but maybe if you wear a long enough shirt you can fool someone.